Latest news
Our journey to Rainbow Tick
VincentCare is now Rainbow Tick accredited. Rainbow Tick is awarded to services that achieve the very highest standard of LGBTIQ inclusive practice.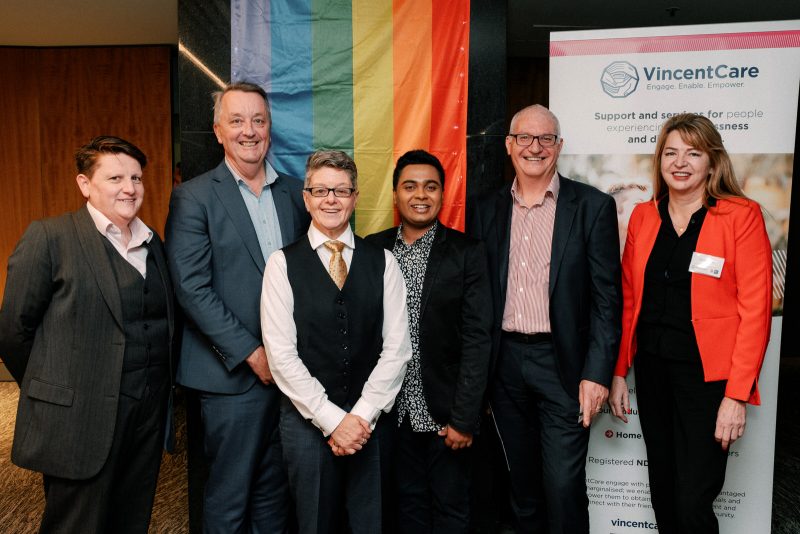 31 May 2019
In May 2019, more than one hundred people gathered in an auditorium in Melbourne to celebrate and reflect on the journey that led to VincentCare's Rainbow Tick accreditation.
Rainbow Tick accreditation is awarded to services that achieve the very highest standard of LGBTIQ inclusive practice. It is a way for an organisation to show their commitment to LGBTIQ pride, diversity and inclusion. A Rainbow Tick accredited service sends a message to their LGBTIQ clients that they will receive an informed and inclusive service from the moment they step through the door; and that LGBTIQ volunteers and staff will find a culturally safe and supportive workplace.
The launch event was a formal acknowledgement of the accreditation and more importantly a celebration of the contribution from all parts of the organisation to more inclusive practice and service delivery.
---
View photos from the launch event
---
VincentCare CEO Quinn Pawson was Master of Ceremonies for the event, which included speakers The Hon. Martin Foley MP, Victorian Minister for Equality; Ro Allen, Victorian Commissioner for Gender and Sexuality; Jac Tomlins, VincentCare Project Coordinator, Gender and Sexuality; and Elvis Martin, National Youth Ambassador. Guests were the first to see a video of VincentCare clients, staff and volunteers saying what Rainbow Tick meant to them in the context of their work and their own identity. The formalities concluded with the presentation of the certificate of accreditation by Phillip Bain, Quality Innovative Performance (QIP) Director.
To receive accreditation, an organisation needs to meet the Rainbow Tick standards, which were developed in 2013 by Gay and Lesbian Health Victoria (now Rainbow Health Victoria) and QIP. This involves embedding inclusive LGBTIQ practices across the organisation and ensuring they are sustainable in the long term. Mr Bain acknowledged the work of VincentCare and hopes to hand out more accreditations to more service organisations in future.
At VincentCare, the push to undergo Rainbow Tick accreditation was championed by leaders within the organisation including former Deputy CEO Dr Jane Daniels whose advocacy over a number of years resulted in the appointment of a designated staff member to coordinate the process.
In 2016, VincentCare recruited Jac Tomlins in the role of Project Coordinator, Gender and Sexuality to oversee the implementation of Rainbow Tick. VincentCare has a long history of providing services and advocating for people experiencing homelessness and disadvantage, including LGBTIQ people.
LGBTIQ people are overrepresented in the homelessness population as a result of on-going discrimination, stigma and trauma. VincentCare needed to be equipped to support LGBTIQ people, which meant staff needed to have an understanding of lived experience, and the knowledge and skills to provide LGBTIQ clients with the best possible service.
Everyone at VincentCare, from Board to administrative staff, embraced the decision to move towards more inclusive practice. It's taken three years of hard work and commitment to make changes to every part of the organisation. Some key initiatives include:
Providing professional development training for staff focusing on best-practice service delivery to different LGBTIQ cohorts.
Enabling LGBTIQ clients to identify through Single Client Record and improving LGBTIQ data collection to help ensure their specific needs are met.
Celebrating significant LGBTIQ events throughout the year, and supporting a range of LGBTIQ community organisations through annual memberships.
Distributing a LGBTIQ Client Survey, analysing the results and responding to feedback and suggestions.
Developing a comprehensive intranet resource of LGBTIQ services, groups, organisations, research and resources.
Researching and writing the Gender and Sexuality: Inclusive Practice Guide and a companion Resource Guide, and providing staff with the opportunity to share and discuss their experiences in reflective practice sessions.
Developing relationships and referral pathways through outreach with key LGBTIQ organisations.
Distributing a regular newsletter to all staff and sharing LGBTIQ stories on social media.
Participating in sector networks including the LGBTI Safe Housing Network and the Family Violence Forum.
Creating an inclusive and supportive environment also includes providing a framework where LGBTIQ staff are comfortable to be open or 'out' about their gender identity or sexual orientation at work. At VincentCare, this is done by creating an inclusive culture with genuine bold leadership and policies and strategies that specifically recognise LGBTIQ people.
A number of initiatives have been put in place to support LGBTIQ staff at VincentCare, including:
Creating an LGBTIQ Staff Group that meets regularly and provides support and networking.
Celebrating LGBTIQ events including IDAHOBIT Day and Wear it Purple!
Ensuring co-workers have a good understanding of the LGBTIQ community through professional development training.
Providing access to specialist LGBTIQ counselling.
Providing staff with the opportunity to be open about their gender identity and sexual orientation.
The launch event was a great success. Guests received a goodie bag to take away including copies of all VincentCare's materials in electronic format to assist other organisations with planning their Rainbow Tick accreditation.
For VincentCare, Rainbow Tick accreditation represents a significant milestone but this is not the end of the journey. There is always more work to be done to create and embed inclusive practices into the organisation for the benefit of clients, staff and volunteers.
---
Photo: Ro Allen, Victorian Commissioner for Gender and Sexuality; The Hon. Martin Foley MP, Victorian Minister for Equality; Jac Tomlins, VincentCare Gender and Sexuality Coordinator; Elvis Martin, National Youth Ambassador; Quinn Pawson, VincentCare CEO; Sue Cattermole, St Vincent de Paul Society Victoria's CEO.