Our history
Since 2003, VincentCare has provided services and advocated for people experiencing homelessness and disadvantage.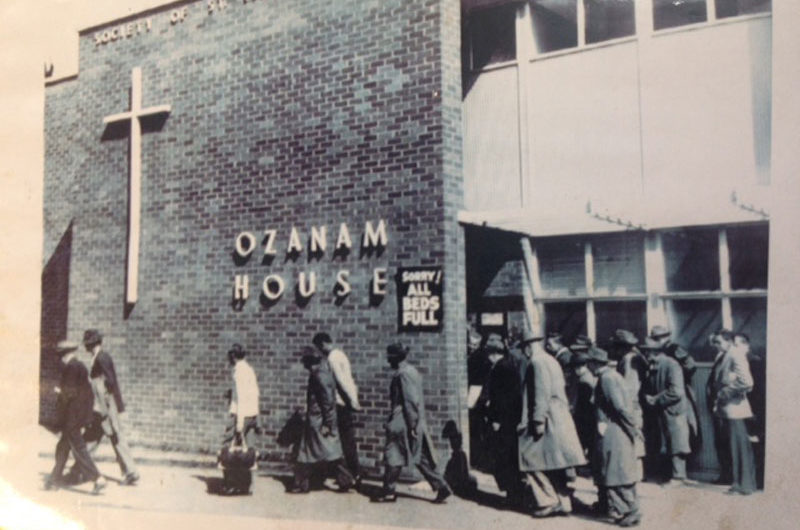 In 2003, the Society of St Vincent de Paul established VincentCare as a means of extending its Christian
mission to support and advocate on behalf of the most disadvantaged Victorians. Along with this came
stewardship of Ozanam House and the Ozanam Community Centre. VincentCare continued offering core
services while investigating how it could evolve its services and support programs to help people make a
permanent exit out of homelessness and disadvantage.
In 2012, VincentCare launched its new Organisational Mandate, Statement of Purpose, Aspiration and Values, the culmination of a major project initiated by the Board to review its vision and mission statements.
In 2012, VincentCare launched its HomeConnect program, delivered in partnership with Anglicare Victoria, the Australian Community Support Organisation, Mayflower Community and Care, and the Real Estate Institute of Victoria. The program uses an early intervention and prevention approach, and is based on a trans-disciplinary support model. HomeConnect has provided support to individuals and families across seven key outcome areas: housing; health/wellbeing; education/employment;social connectivity; living skills; income maximisation; and an integrated support plan.
In 2013, significant growth in service delivery at Glenroy, including the addition of the HomeConnect Program and the relocation of VincentCare's Youth Services programs from North Melbourne, formed the basis of the Board's decision to lease additional premises at 175 Glenroy Road, Glenroy. This new facility becomes the gateway for clients seeking housing assistance through VincentCare.
In 2012, VincentCare commenced implementation of a new Home Care Package (HCP) program. The HCP program has grown from 25 to 83 packages and will now cover both the Department of Health Western and Northern Metropolitan planning regions. The new HCPs will need to operate under Consumer Directed Care (CDC) principles, and present an exciting opportunity for the organisation to establish and refine a CDC model prior to other important program recommissioning processes.
In 2013, Sunbury Gardens launched. This is a new initiative that provides accommodation for 22 people aged over 50 years. Ten newly built Department of Human Services (DHS) units in Melton are another initiative and provide accommodation for young adults where the residents are able to connect with employment and education programs.
Almost a decade ago, VincentCare identified the importance of developing new ways to work with Victoria's most vulnerable.
Consulting with clients, and working from a strong evidence base, including understanding the  external operating environment and global trends, the Board developed an innovative model of care which became a centrepiece of our Strategic Directions 2012-2015. At VincentCare, we recognise that factors leading to homelessness are multifaceted and that clients often present with a range of complex issues. Importantly, we recognise that trauma and homelessness are inextricably linked.
In 2018, that has evolved into a leading practice known as the Homeless to Recovery model.
In 2016, construction commenced to redevelop Ozanam House into a world-class 'one-stop shop' facility. The blueprint caters to a wider and more diverse community than ever before and offers long-term and short-term support and accommodation options. The new Ozanam House will open in 2019 as a modern and fully integrated homelessness accommodation and resource centre, featuring three tiers of accommodation, an allied health platform, and a new level of amenity, security, privacy and dignity to people experiencing homelessness in Melbourne.
---
You might also be interested in