Client stories
"Without VincentCare, I wouldn't have my house … they are a true blessing."
Paul, a proud Bidjara boy from Charleville, has experienced hardship and homelessness, on and off, for the past 30 years.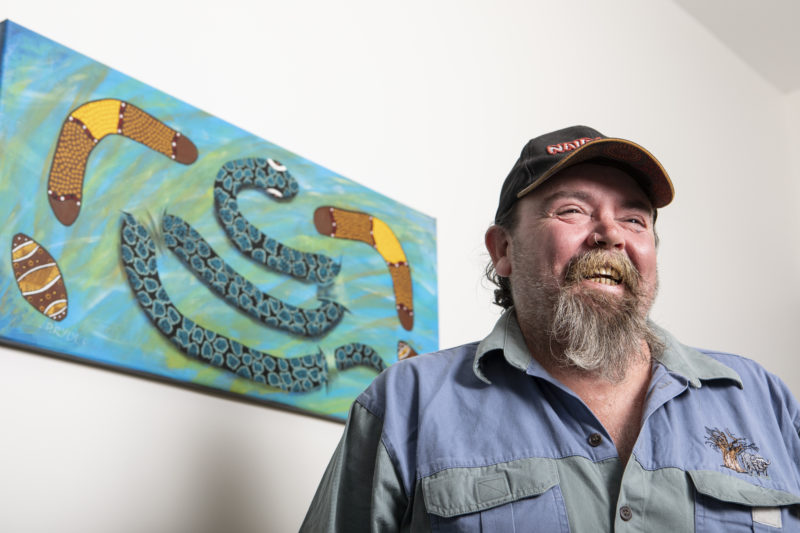 29 November 2018
In February 2018, Paul, his partner and their six-year-old son Harly were given notice to leave their house.
"We were out on the street and didn't know what to do. We had a doctor's appointment in Glenroy, and while we were waiting, I spotted VincentCare across the road."
Paul had no idea that VincentCare provided housing. He thought they were more of a foodbank and emergency relief service. He went in and spoke to Mim and he says he felt instantly "comfortable" and that VincentCare "understood his culture".
"She was just fantastic. She arranged temporary accommodation for us in Coburg for a month while we figured out what our next step would be."
In his last week at Coburg, VincentCare told Paul about the possibility of a two-bedroom unit.
"We made an appointment to go have a look and it was approved straightaway. By Friday, we'd moved in and life was good. VincentCare even surprised us with a new flat screen TV and a microwave – it just turned up one day on a truck, I couldn't believe it".
A few months later, Paul's partner left the unit and never came back. "She just took off with my son. No words, no explanation, nothing. Just there one day and gone the next."
Suffering from depression and anxiety, Paul ended up in hospital. He also discovered that the rent was $2000 in arrears.
"VincentCare rescued me again. Lynda managed to clear up my rent arrears, and she's just been amazing – all of them. VincentCare are a true, true blessing. I can't express enough how grateful I am."
Lynda also helped to negotiate a reduced rent rate to allow Paul to stay in the property on his own, and he's still there now – waiting for news of his son and keeping himself busy with his art. "Without my art, I'm nobody. It's something I know how to do and it's something I love doing."
Paul says that doing his art takes him to another world, away from the problems and away from the stress. "When I paint, it's always something to do with freedom – the land."
Paul's art has started to show in books and exhibits. Paul says that he wants to do a painting especially for VincentCare and donate it as a thank you for all the help he's received. "If I ever need someone to talk to, or if I've got a problem VincentCare is always there. Just the support they give, it's unbelievable. I'd be lost without them."
VincentCare has already purchased one of Paul's paintings titled 'In and Out of Country' and Paul explains its meaning as freedom. "It symbolises freedom. It centres on the snake, and you have the snake who is able to go where it wants and when it wants– it's free. It's going in and out of country with freedom, doing what it wants, and that's how I feel now. With VincentCare helping me, I feel that I'm starting to be free."
Paul says he "doesn't paint to sell", he paints because "I love the art and the meaning – the culture."
He says that missing his son is the most difficult thing to go through because he has been with him since he was a baby. "His first word was Dad, and then as he got older, he was always with me, watching while I'm painting and asking questions about my art."
Paul says he just wants to give his son a good life and to pass on his experience, his history, and his  family's history and culture. "I just want him to have the life I never did."
Now, Paul is looking ahead and beginning to put himself first. He says that's one of the big things he's learned from VincentCare. "I need to put myself first then I can start to plan my future, especially with seeing my son."
Homelessness can happen to anyone