Latest news
Staff sleepover for insight into crisis accommodation
Fourteen staff from across VincentCare experienced crisis accommodation firsthand after spending the night at the new Ozanam House accommodation and homelessness resource centre.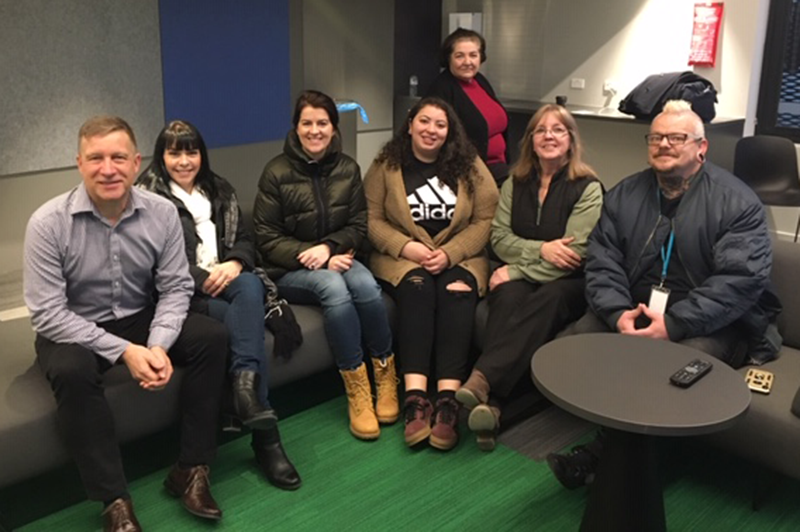 23 July 2019
The overnight stay gave VincentCare staff an insight into the experience of clients who will soon be staying in the new crisis accommodation rooms when they open to the public later in the week.
The $47 million centre on Flemington Road in North Melbourne opened in July 2019. It has a homelessness resource centre that caters for up to 250 people a day, offering health services, a tech hub, café style meals, amenities and support, including case management and personal and financial counselling. It is also Australia's largest homelessness accommodation centre, with 134 short-, medium- and long-term rooms and apartments specially designed to support people's recovery from homelessness.
Each room contains a king single bed and bedding, ensuite bathroom, storage, the option of three meals a day, and access to several dedicated communal areas including: a laundry; bike storage; and common room on each floor. Safety and support is assured by secure staff stations on each floor and CCTV and security features.
Quinn Pawson, VincentCare CEO, took part in the sleepover and was very pleased with the standard of accommodation. He said the new centre had been designed through consultation with clients.
"Really the benchmark for us is would we want to live here? If we could answer yes to that question then I think we got it about right."
Crisis rooms are just one vital element of the care that Ozanam House will provide. Clients also receive client-centred, case managed support at each step of their journey. Where possible, VincentCare will help these clients to reconnect with trusted family or previous lodgings, or to find them accommodations they can move on to, so that they do not end up on the streets or in an unsafe situation.
Paul Turton, General Manager Homelessness Services, who also spent the night, said that clients talked about feeling safe and calm in the new accommodation, and noted that wrap-around support services would provide additional safety and support.
"Responding to homelessness is more than just providing people with shelter. People recover from the traumatic experience of homelessness when they are treated with respect and dignity. For this reason, the new accommodation provides people who have experienced homelessness with safe, respectful, high-quality accommodation."
Mr Pawson said homelessness is more than just an absence of housing.
"It is a complex health and social condition that is often linked to trauma. Supporting people to recover from an experience of homelessness starts with a return to housing but must also support to develop or regain personal capacity and community connections.
"On site we will have the most comprehensive range of support services to tackle all of the complex health and social issues that contribute to people experiencing, or being at risk of, homelessness."
As many as 116,400 Australians are currently without a home. Homelessness in Australia is on the rise with a 14% increase in the recorded number of people experiencing homelessness since 2011. (Source: https://www.abc.net.au/interactives/homeless/)
At the sleepover, Michelle Olley from the Northern Community Hub spoke with a client who had recently been sleeping rough feeling overwhelmed by the contrasting high-quality accommodation at Ozanam House. Christie Haggar from the Northern Community Hub thought the sleepover was a great idea.
"The room was nice and warm, and felt so safe and private. The room I stayed in was fully wheelchair accessible which is awesome.
"I'm so excited for clients to experience this instead of some of the other places they have been used to. I know it might take a little bit of adjusting to, but I think this is a great standard for crisis accommodation."
Applications for Crisis Accommodation at Ozanam House can be made through your local Access Point service. Call 1800 825 955 and ask for a referral to Ozanam House Crisis Accommodation.